These Chicken Gumbo Sloppy Joes are the BEST around! Ground beef is cooked in a rich sauce made with a unique canned soup and served on hamburger buns. These nostalgic and delicious sandwiches are ready in 30 minutes or less making them the perfect weeknight meal!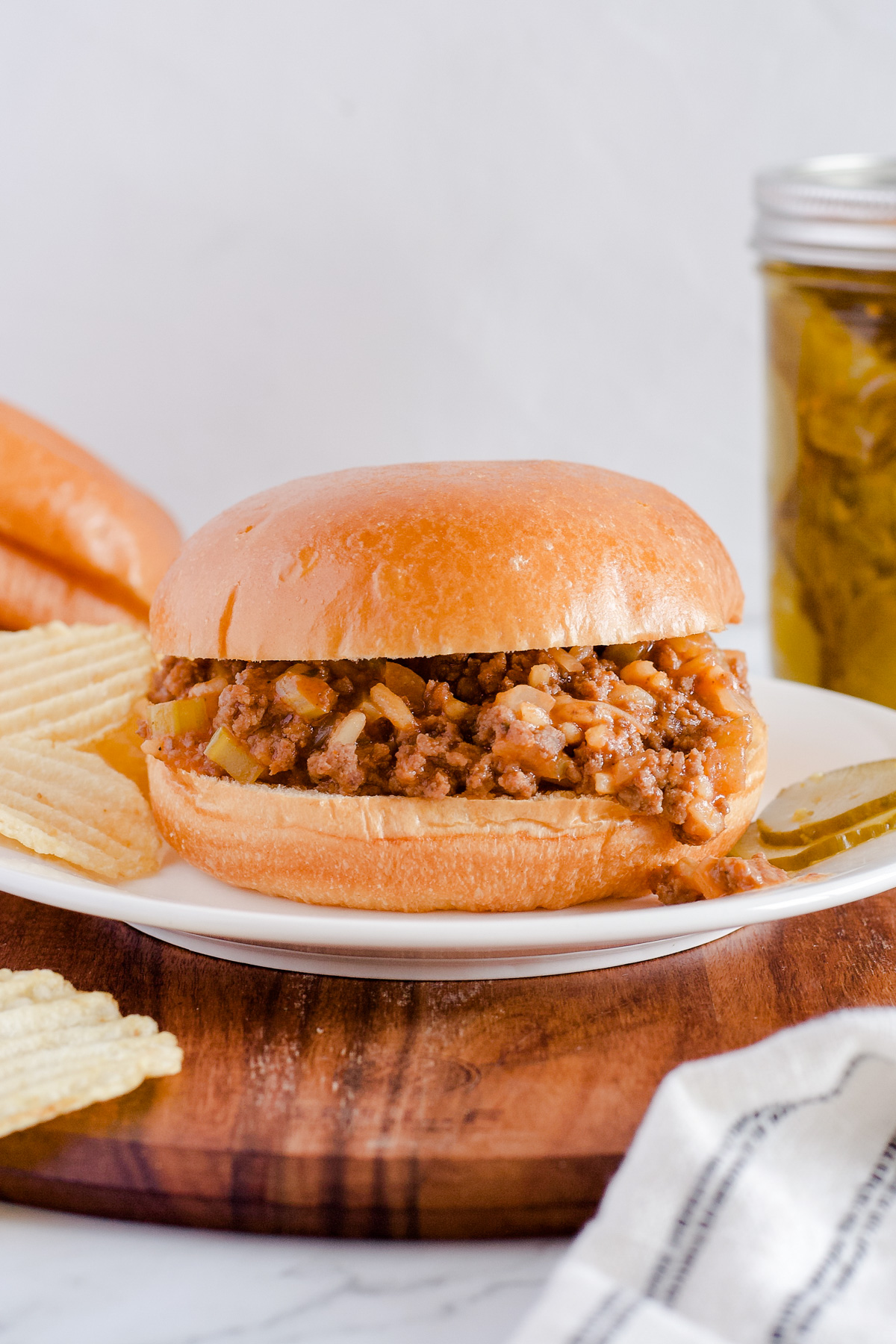 I lived much of my childhood believing this was the only kind of sloppy joes that existed, as this is the only way my family has ever made them. I had to write this recipe out when I was getting ready to share it with you because one didn't exist.
This recipe is pretty hard to mess up, but regardless, I have everything measured out for you to make it foolproof.
As far as my sheltered sloppy joe life goes, I was in for a rude awakening when I met my husband. His family has a different sloppy joe recipe. While I also enjoy that one, the recipe I grew up with has a special place in my heart, making it my go-to recipe. Marriage is all about compromise, right?
Jump to:
Why You'll Love This Recipe
Easy - Simple ingredients, store-bought shortcuts and 30 minutes or less to get dinner on the table with this recipe.
Kid-friendly - Fellow parents may agree there is something about term "sloppy" that kids seem to be drawn to. I'm on board if it means my kids will eat their dinner! These sandwiches have a nostalgic element to them that many of us seem to remember from our childhood.
Great party food - I have memories of my sister-in-law's graduation party with a turkey roaster filled with sloppy joes. Sloppy joes for 200 people, anyone? This recipe scales easily and can be made in advance & reheated, making it a crowd favorite at your next gathering.
Ingredient Notes
This recipe requires only a handful of basic ingredients that you likely have in your fridge or pantry. For a full list of ingredients, check out the recipe card below.
Ground beef - Any kind will do as you will drain any excess grease that cooks out.
Chicken gumbo soup - Condensed chicken gumbo soup is made up of diced chicken, rice and a blend of peppers, celery & okra in chicken stock. I've never had the soup on it's own but I love the flavor and texture it gives these sloppy joes.
Ketchup & mustard - The ketchup gives the sloppy joes their classic tomato flavor and the mustard provides a hint of tang.
Brown sugar - Just the small addition helps even out some of the tangy flavor and really balances everything out.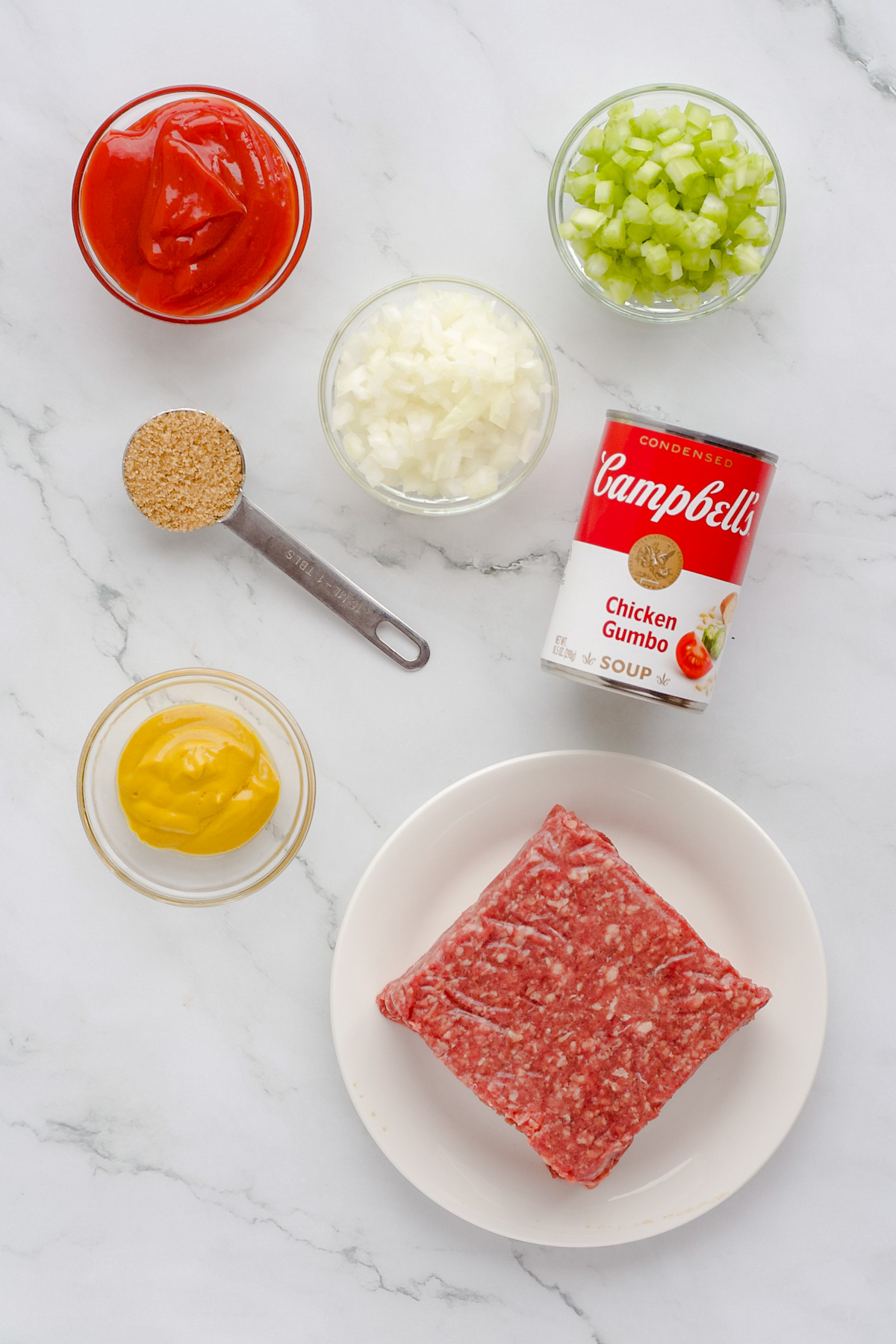 Step-by-Step Instructions
Set your timer, I promise you can have dinner on the table in 30 minutes or less with this recipe!
Step 1: Brown the meat. - Heat 1 tbsp. of olive oil in a skillet over medium-high heat. Add ground beef and season with salt & pepper.
Continue cooking the beef while breaking it apart into small pieces. When the meat is no longer pink, drain any excess grease, then add in the chopped celery and onion. Sauté this mixture for 3-4 minutes until the veggies are tender.
Step 2: Make it "sloppy". - Move over Manwich! To the skillet, add a can of chicken gumbo soup (no water!), ketchup, mustard and brown sugar. Let this mixture start to bubble then reduce heat to medium-low and simmer for 8-10 minutes.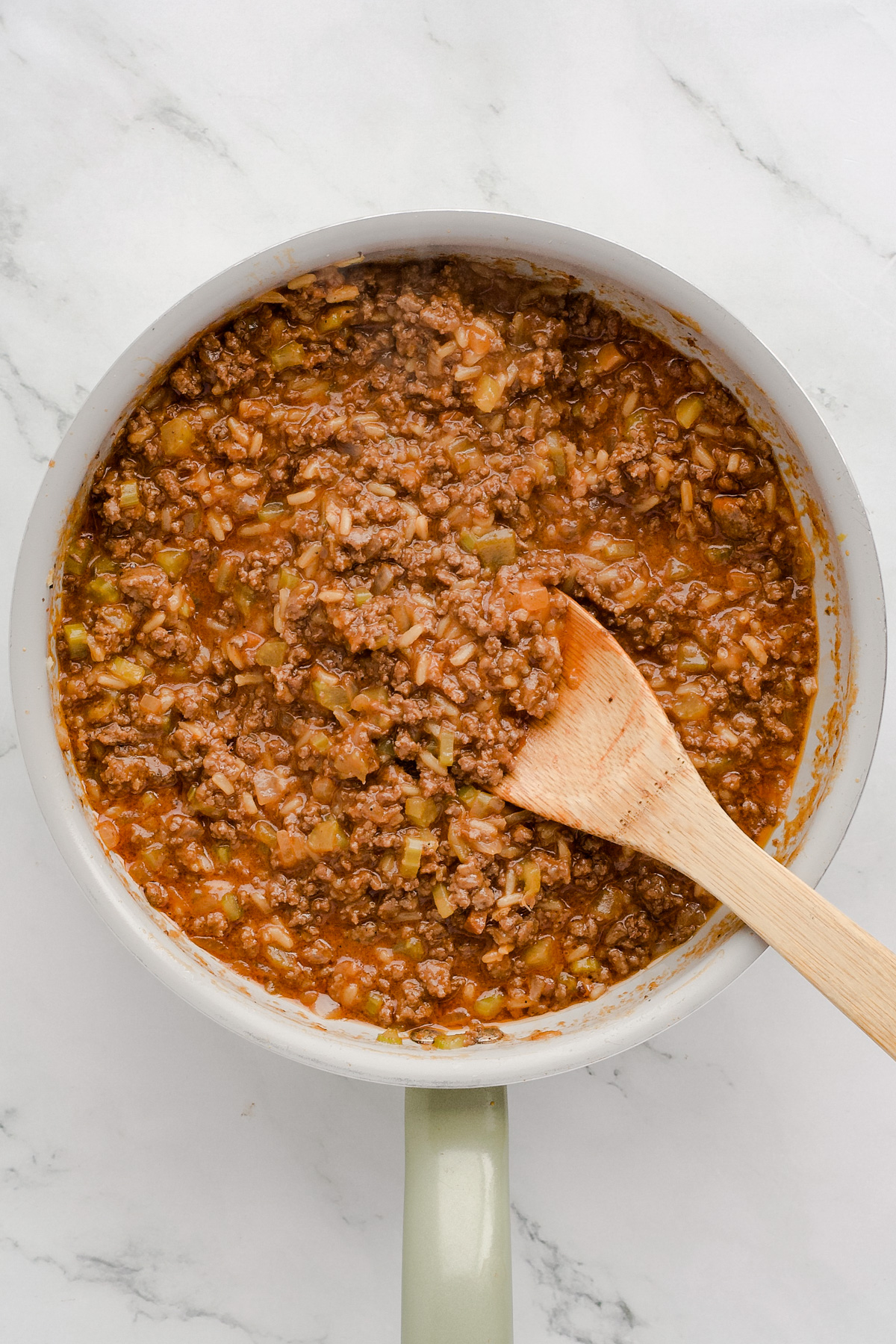 Step 3: Serve. - To serve, place a hearty scoop of the meat mixture on the bottom half of a fresh hamburger bun (I like to butter my bun). Top with top bun. Serve with your choice of sides.
Serving Tips
This recipe will make 6 nice-sized sandwiches, but you can easily scale this recipe to feed a crowd.
Sides like potato chips, pasta salad, potato salad, Vinegar Coleslaw or these Calico Beans go perfectly with sloppy joes!
Storage and Reheating
Leftover sloppy joe meat can be kept in an airtight container in the fridge for 3-4 days. The mixture also freezes nicely for up to 4 months.
Reheat the sloppy joes in the microwave or in a saucepan on the stove. It's best to allow the mixture to thaw in the fridge if it has been frozen before reheating. In this case, remove them from the freezer 1-2 days before using them.
Recipe Variations
Turkey Joes - Use ground turkey instead of beef. I've seen this version called Sloppy Janes. I love this option when I see ground turkey on sale.
Open-faced Sloppy Joes - I've also served these open-faced with meat on both sides of the bun for a more filling option.
Cheesy Joes - I have my in-laws to thank for the idea of putting a slice of American cheese on sloppy joes. Is it required? No. Is it delicious? Yes.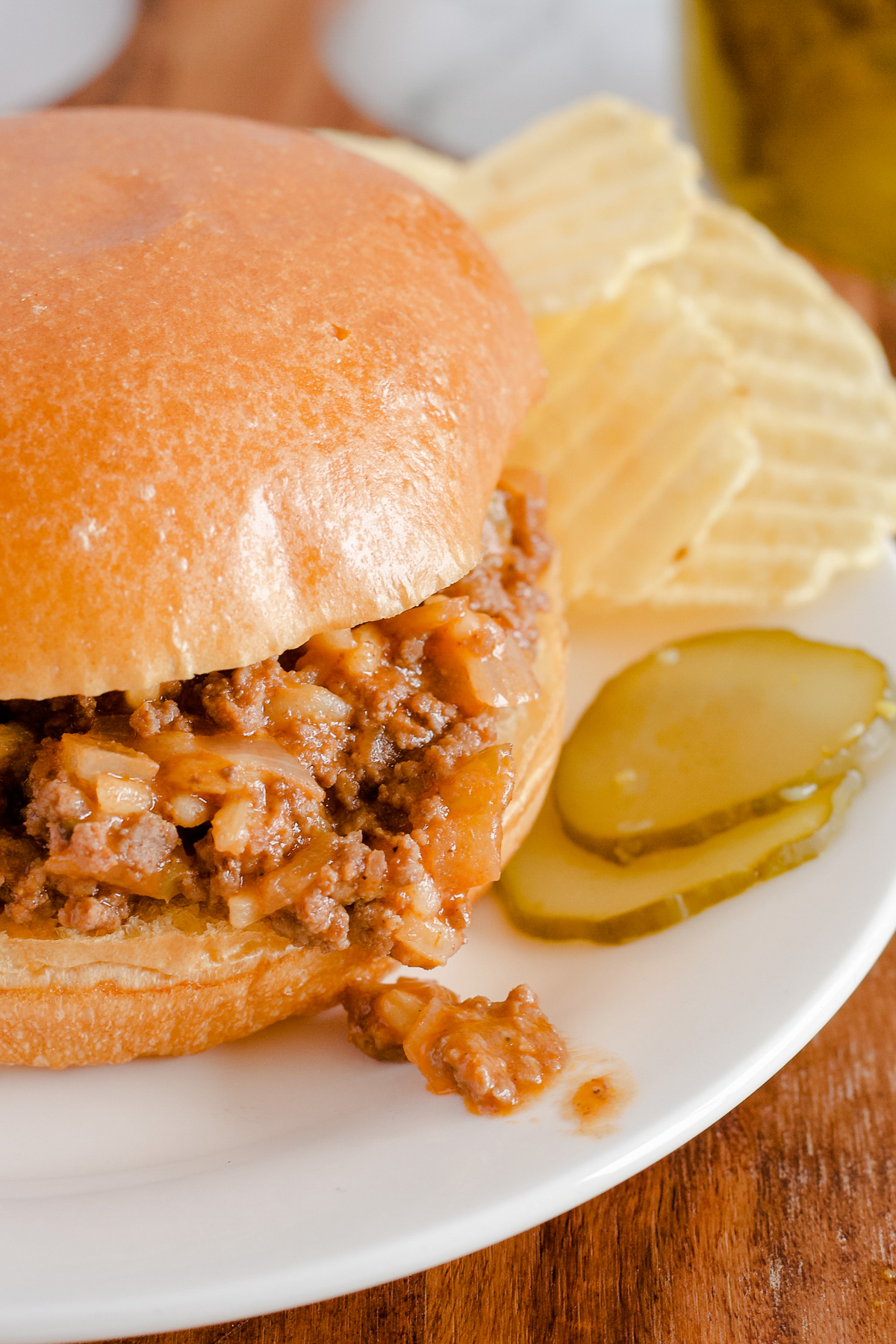 FAQ
Where do I find chicken gumbo soup?
I've only seen the Campbell's brand of Chicken Gumbo Soup in grocery stores. When the pandemic hit, there ended up being a shortage of it. Let me tell you, it was a family tragedy. I remember my aunt calling me a few months later saying she managed to swipe a 2 can limit once it came back in stock.
Can I make sloppy joes in the slow cooker?
I would recommend making them in a skillet and transferring them to a crock pot to keep warm. This works great for a party!
What I can use instead of hamburger buns?
Instead of bread or buns, you can serve the sloppy joe mixture on top of rice, as a lettuce wrap or in a tortilla (think quesadilla)!
Other Sandwich Recipes You'll Love
Be sure to follow The Darling Apron on Facebook & Instagram along with what I'm pinning on Pinterest!
Have you made one of my recipes? I'd love your feedback on the comment box and star rating below the recipe!
Chicken Gumbo Sloppy Joes
These Chicken Gumbo Sloppy Joes are the BEST around! Ground beef is cooked in a rich sauce made with a unique canned soup and served on hamburger buns. These nostalgic and delicious sandwiches are ready in 30 minutes or less making them the perfect weeknight meal!
Ingredients
1

tbsp.

olive oil

1

#

ground beef

½

tsp.

salt

¼

tsp.

black pepper

½

cup

celery

chopped

½

cup

white onion

chopped

10.5 oz.

can

condensed chicken gumbo soup

½

cup

ketchup

2

tbsp.

yellow mustard

1

tbsp.

brown sugar
Instructions
In a large skillet heat olive oil over medium-high heat. Add ground beef and brown while breaking into small pieces. Season with salt and pepper. When beef is almost no longer pink, add in chopped onion & celery. Sauté 3-4 minutes until celery & onion are tender.

Add in chicken gumbo soup, ketchup, mustard and brown sugar. Reduce heat to medium-low and simmer for 10 minutes.

To serve, place a scoop of sloppy joe mixture on a fresh hamburger bun. Top with top bun. Enjoy!
Helpful Equipment & Ingredient Links
Notes
Sloppy joes make a great party food. This recipe can easily be scaled to feed a large crowd. 

To keep warm, place cooked Sloppy Joe mixture in a slow cooker on low or warm setting for 2-3 hours. 
Make turkey joes by substituting ground beef for turkey!