This Porketta Roast is loaded with flavor and so easy to make. A pork butt is seasoned with herbs & spices and slow-roasted until it is melt-in-your-mouth tender. Serve alongside potatoes or on a crusty roll.
I grew up on what is known as Minnesota's "Iron Range" which is located in the northeast part of the state. This area is known and named for it's rich iron-ore deposits that are mined to create steel that is used in cars, buildings and thousands of other items.
The various mines in the area were the livelihood of a large majority of the residents, and continue to provide many jobs today. My dad worked at a mine in my hometown for almost 40 years!
I love the learning the history of this area. It was truly a first generation melting pot of immigrants who came to this area looking to start a new life. Along with that they also brought along their own traditions, and therefore recipes.
When I name off some of the dishes I grew up eating on the Iron Range like potica, sarmas, pasties & porketta, people often wonder what in the world I'm talking about.
I'm working my way through featuring all these great recipes on the blog!
This Porketta Roast was likely a spin-off of the traditional Porchetta roast, which is a popular Italian recipe featuring a seasoned pork loin rolled in a pork belly and roasted. I like to compare Porketta Roast in northern Minnesota to BBQ pulled pork is to the south. It's a staple!
Jump to:
Why You'll Love This Recipe
Simple & easy - A pork butt, an onion, and a handful of herbs & spices are all you'll need to make this recipe that's loaded with flavor!
Oven or slow cooker options - The traditional recipe calls for the roast to be cooked low and slow in the oven, but I've also included information for a crock pot version making it perfect for a busy weeknight meal!
Versatile - Much like other shredded pork recipes, Porketta can be served as a main dish to serve with sides like potatoes or on a bun to be served as a sandwich. Perfect for parties!
Ingredient Notes
Here are a few helpful tips on the ingredients. For a full list of ingredients, check out the recipe card below.
Pork - the best cut of pork for this recipe is a pork butt, or "Boston butt". It comes from just above the pork shoulder. It should have a good amount of fat marbling and is best cooked low & slow to become tender.
Herbs & spices - The herbs & spices used to season the Porketta Roast are fairly simple, but they really pack on the flavor! The one distinguishing spice used that sets this roast apart from other pork roasts is the use of fennel seeds. Along with the salt, pepper, rosemary and onion & garlic powder, this roast has some amazing flavor!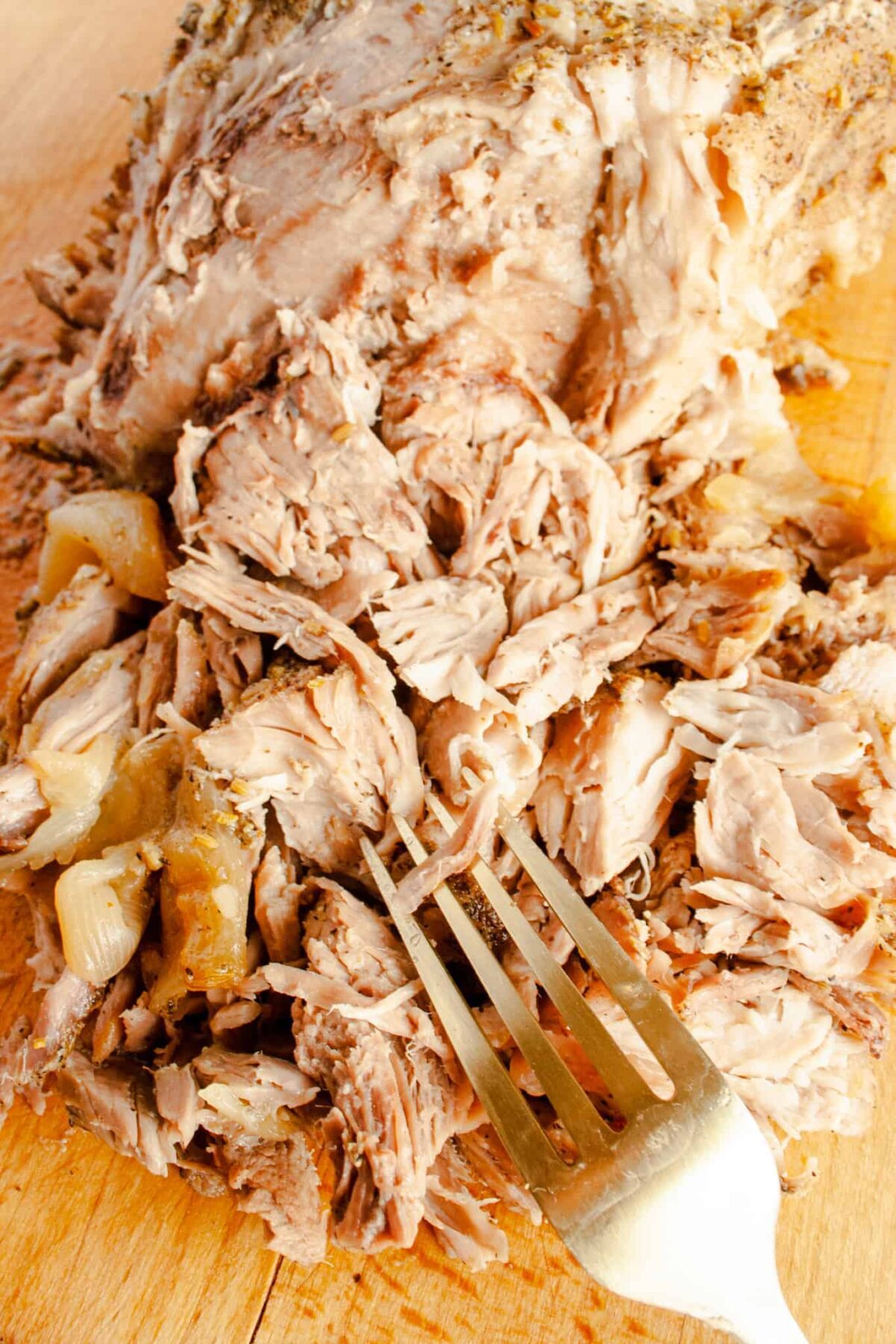 Step-by-Step Instructions
This roast is so easy to put together! Here's how you do it:
Step 1: Make the spice rub. - Combine all the herbs & spice in a food processor and pulse a few times. This is done to break up some of the fennel seeds and rosemary to create a nice spice rub for the pork butt. Warning: this spice rub will make your mouth water!
Step 2: Season the pork. - Once you have made your spice mixture, rub it all over a 4 pound pork butt covering it completely.
Step 3: Roast. - Place the seasoned pork butt in the bottom of a Dutch oven or roasting pan. Place a quartered onion around the roast and place is a 325 degree oven. Roast the Porketta for 2 ½-3 hours until the internal temperature has reached at least 145 degrees and the meat is starting to fall apart. 
When cooked low & slow, the roast should take no more than 2 forks to shred it. After shredding, I like to place the meat back in the pan juices and keep warm for serving.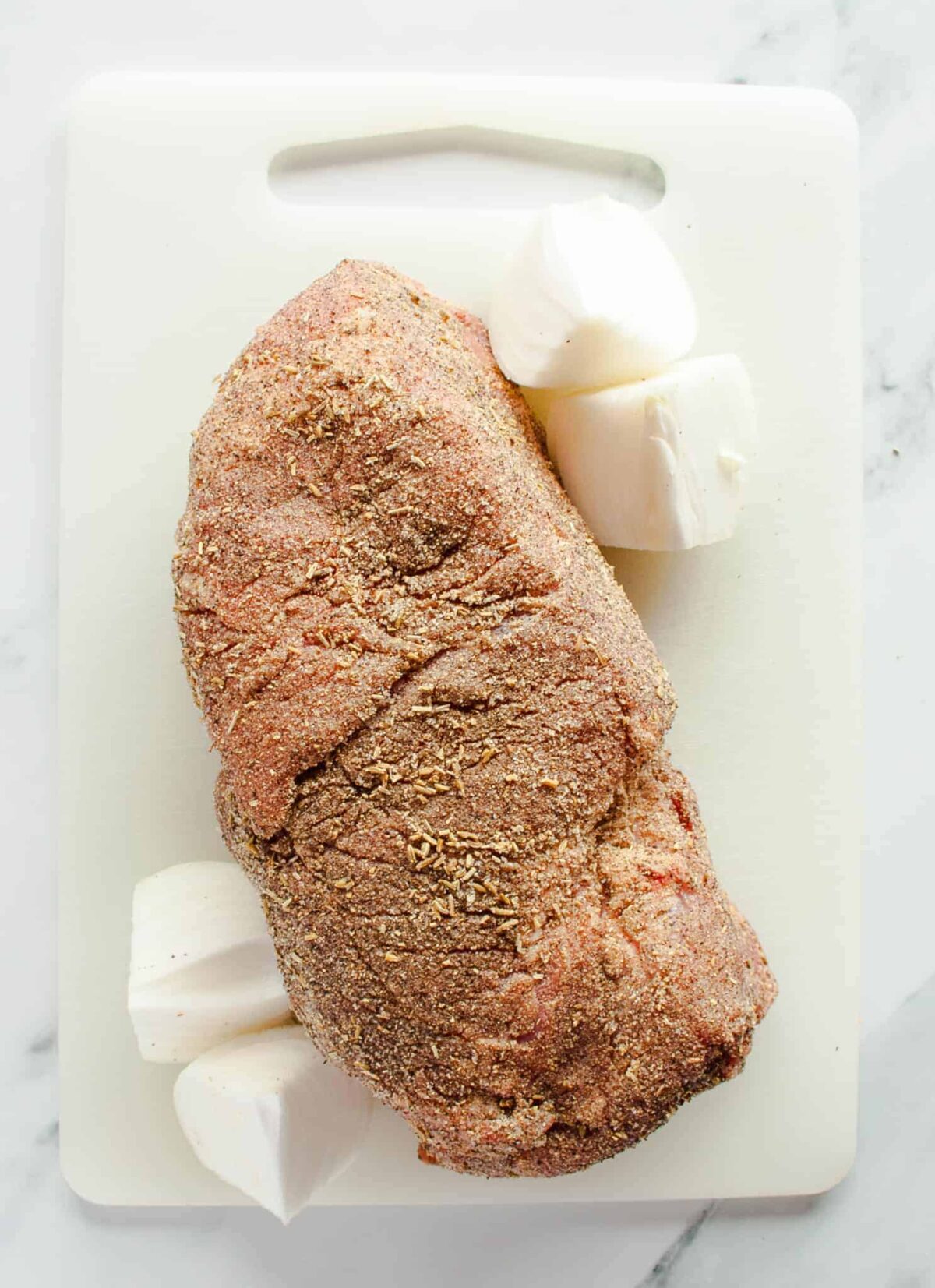 Serving Tips
There are a couple ways I like to serve this Porketta Roast. The first is simply as a pulled pork sandwich on a nice, crusty roll. No need for BBQ sauce, but I have seen people use some mustard on their Porketta sandwiches.
This makes it a great recipe for potlucks or entertaining!
Another way to prepare and serve a Porketta Roast is to cook it alongside some potatoes and onions to create more of a pork roast meal. Before putting the Porketta in the oven, cut some potatoes and carrots into chunks and place around the roast. The potatoes and carrots cook in the yummy juices and become nice and tender.
I love this version because it's a one pan meal with your meat, starch and veggie all together under one roof (or pan)!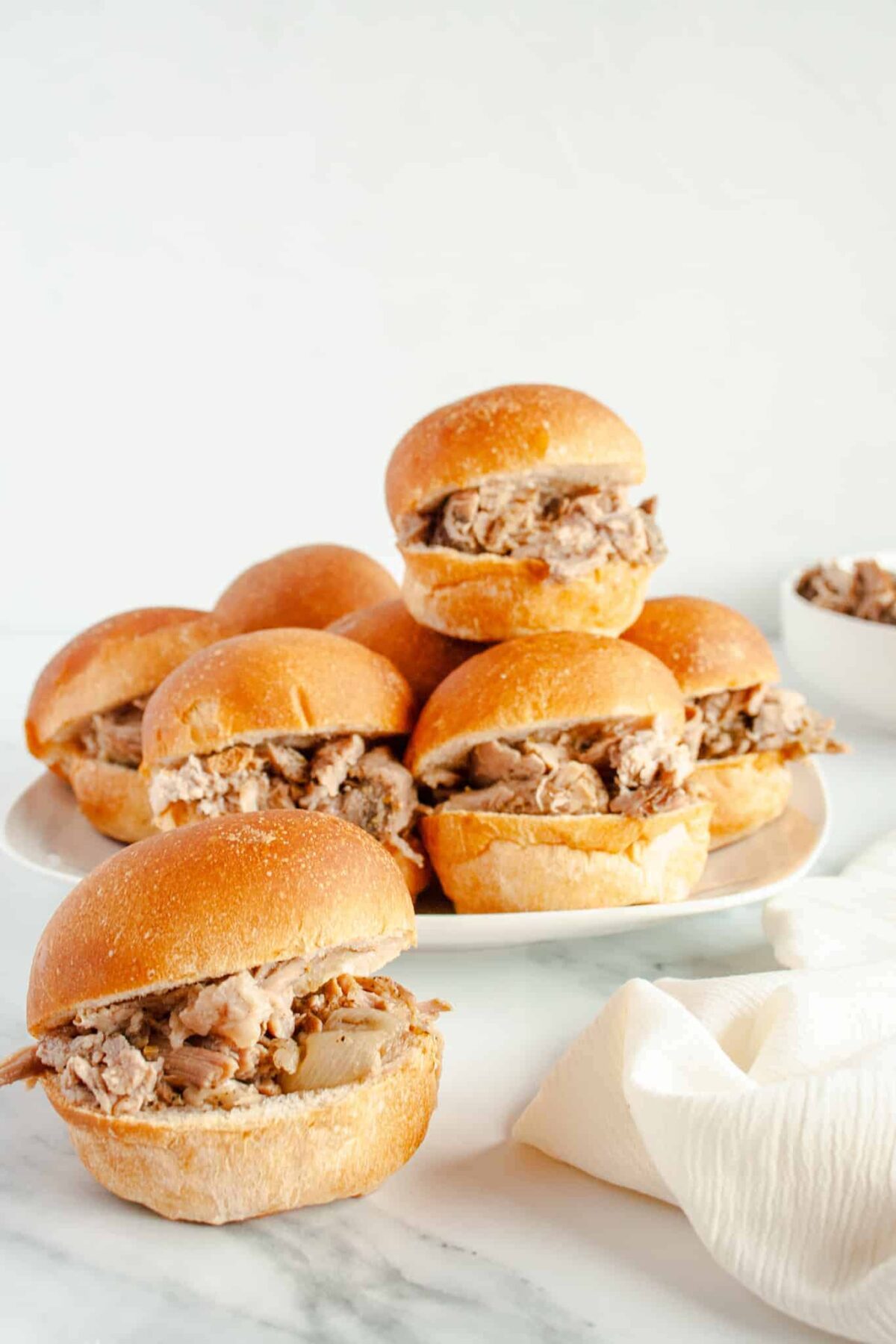 FAQ
Can you make porketta in a slow cooker?
Since low and slow is key to a fork-tender Porketta Roast, you can absolutely cook it in your slow cooker instead of the oven. Prepare the roast how you would for the oven version and place in your slow cooker and cook 7-8 hours on low. Adding potatoes and carrots will also work for the slow cooker version!
Can it be frozen?
Any leftovers will freeze nicely to be used for another time. Be sure to cool it completely and place in a freezer bag, making sure to get as much air out as you can before closing. I love having some in my freezer for a quick lunch or dinner!
What other cuts of pork will work?
Besides a pork butt, a pork shoulder will also work for this recipe. It has a great amount of flavor and moisture, and turns out best when cooked low and slow.
Other Pork Recipes You'll Love
Be sure to follow The Darling Apron on Facebook & Instagram along with what I'm pinning on Pinterest!
Have you made one of my recipes? I'd love your feedback on the comment box and star rating below the recipe!
Porketta Roast
This Porketta Roast is loaded with flavor and so easy to make. A pork butt is seasoned with herbs & spices and slow-roasted until it is melt-in-your-mouth tender. Serve alongside potatoes or on a crusty roll.
Ingredients
1

tbsp.

salt

2

tsp.

black pepper

1

tsp.

onion powder

1

tsp.

garlic powder

2

tsp.

fennel seeds

1

tsp.

dried rosemary

4

#

boneless pork butt

1

onion

quartered
Instructions
Preheat oven to 325 degrees.

Place all herbs & spices in a food processor and pulse to break up fennel seeds & rosemary. Rub the spice mixture over the entire pork butt.

Place pork in a Dutch oven or roasting pan along with quartered onion. Cover and roast 2 ½-3 hours until pork is done and fork tender.

Remove porketta from the oven and allow to rest 10 minutes before shredding.
Helpful Equipment & Ingredient Links