This easy ground chicken meatloaf is a healthier alternative to traditional meatloaf, while not compromising on flavor. This twist on homestyle meatloaf is sure to become a new family comfort food favorite!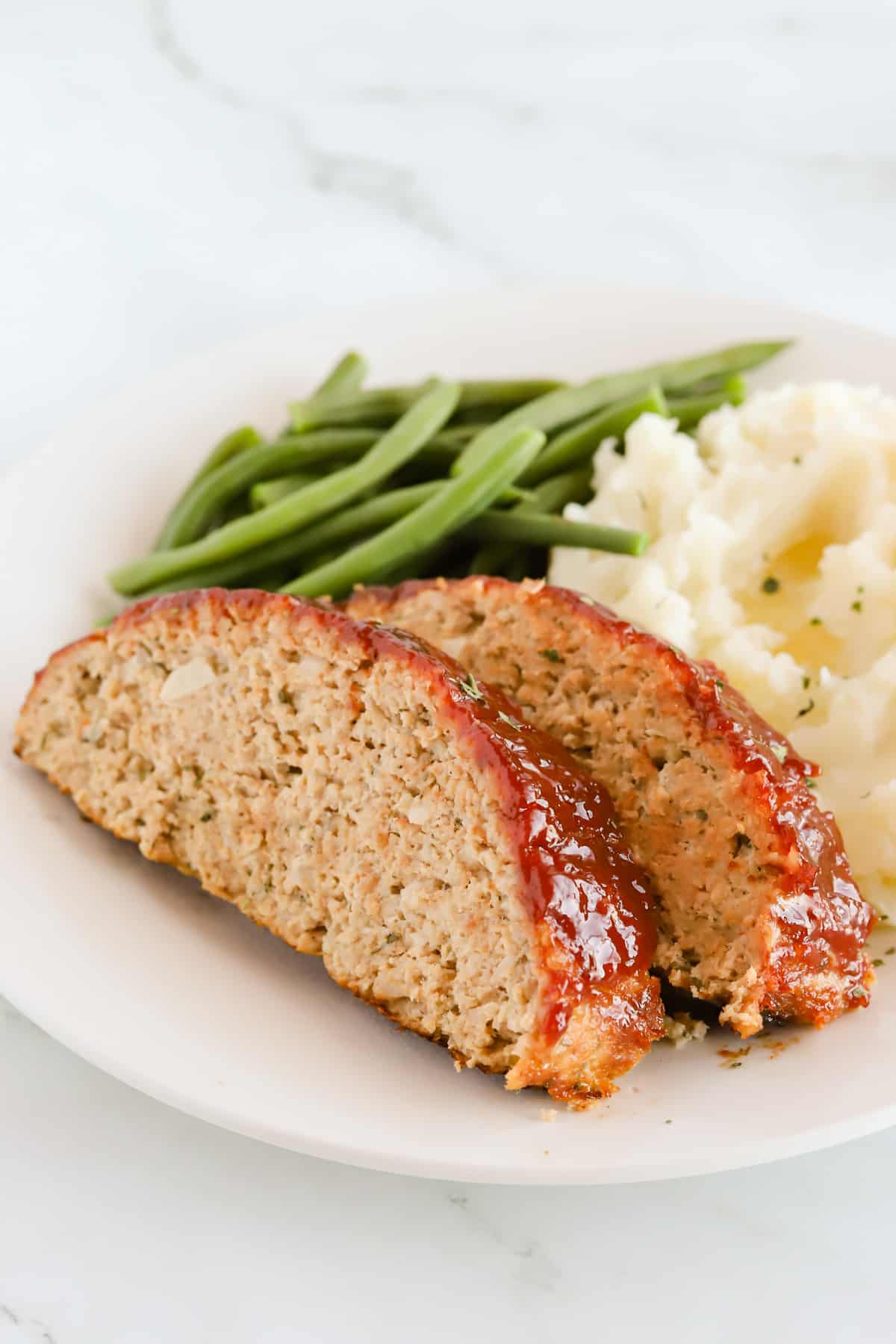 This recipe in on constant rotation at my house. Both kids and adults love it! This meatloaf is lightened up with the use of chicken, but isn't short on flavor and most importantly, stays moist during cooking.
I love making meatloaf on a sheet pan versus a loaf pan. The freeform shape is fun and keeps the sides from getting soggy. If you're lucky, some of the glaze will drip down onto the parchment and create a delicious caramelized crust. My family always fights for this part.
Jump to:
Why You'll Love This Recipe
Easy weeknight meal - This recipe is hearty, flavorful, and so easy to make. Perfect for those busy weeknights!
Leftovers - This recipe makes a pretty large meatloaf, and you could argue it's even better the next day. Great for meal prep and lunches throughout the week.
Versatile - Instead of one large loaf, make this recipe into small loaves, meatloaf muffins or even meatballs. Cooking time may be shorter for these variations.
Ingredient Notes
Here are some tips & tricks for the ingredients needed for this recipe. Find exact measurements in the recipe card below!
Ground chicken - While I also enjoy meatloaf made with beef and pork, using ground chicken is a nice change once in a while. Chicken is naturally more lean and still provides a good amount of protein.
Oats - Quick cooking oats are used as a binder along with breadcrumbs in this recipe. The oats will soak up the extra moisture which will bulk up the meatloaf.
Breadcrumbs - I like the combo of using both oatmeal and breadcrumbs in my meatloaf. They serve the same purpose, but using some breadcrumbs instead of all oats gives the meatloaf a smoother texture that I prefer. Regular, Panko or Italian seasoned will all work fine.
Eggs - Since this recipe uses chicken, using other ingredients that help retain moisture and richness are crucial to success. Eggs help achieve this as well as helping the meatloaf keep it's shape.
Parmesan cheese - Right out of the shaker. Adds some salty flavor.
Worcestershire sauce - This always feels like a magic ingredient to me. Adding it to recipes gives them a rich, umami flavor.
Herbs & spices - Dried parsley, oregano, garlic powder, salt and pepper give the meatloaf a ton of flavor with a slight Italian flair.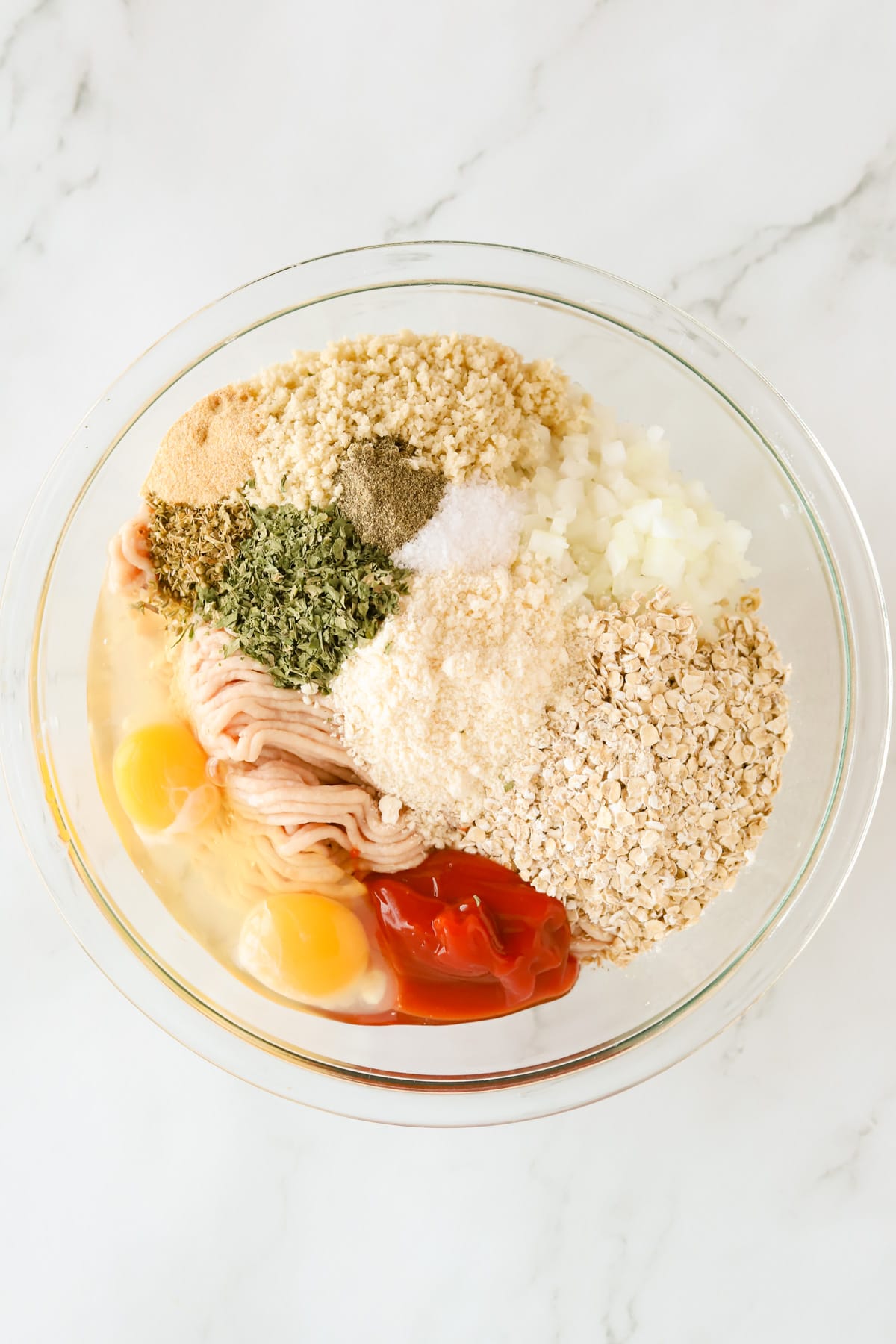 Step-by-Step Instructions
You'll have dinner cooking in 10 minutes or less with this recipe. It's perfect for a weeknight meal!
Step 1 - Preheat oven to 400 degrees. Line a baking sheet with parchment paper. This will make clean-up a breeze!
Step 2 - Mix the meatloaf ingredients together in a large bowl. I find the best tool for this is a clean pair of hands. It's really the best way to evenly mix everything together. A rubber spatula will work too.
The key to a tender and moist meatloaf is not to over mix it. Over mixing will create a dense and drier loaf. Gently combining the ingredients until just mixed is the way to go.
Step 3 - Form the meat mixture into a loaf on the baking sheet. Make the loaf uniform in thickness so it cooks evenly. Pinch together any cracks that form on the top.
Step 4 - In a small bowl, mix ⅓ cup ketchup, ⅓ cup barbecue sauce and 2 tablespoons of brown sugar to make the glaze. Pour the glaze over the meatloaf and spread it evenly on top and sides.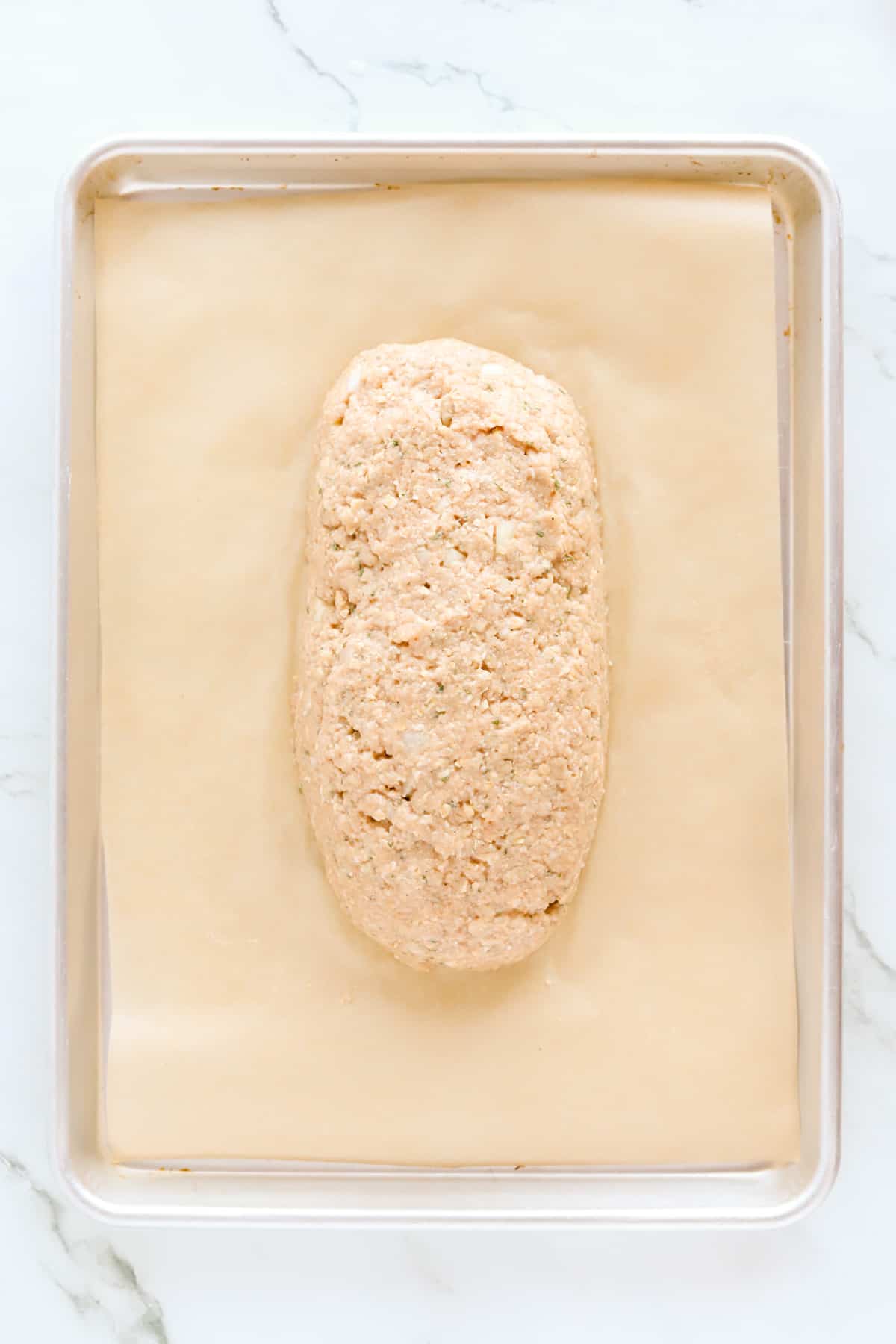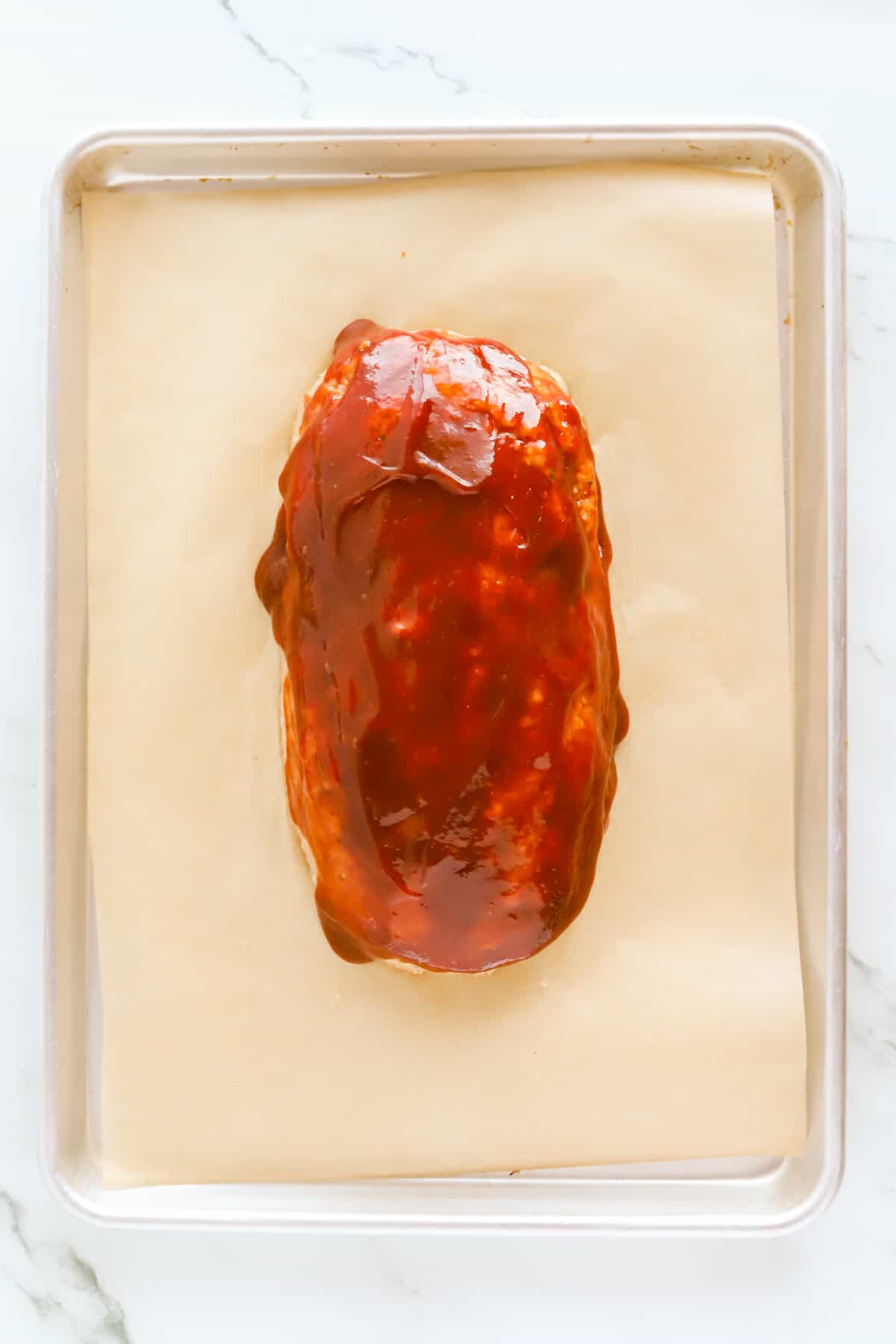 Step 5 - Bake the meatloaf in a 400 degree oven for 55-60 minutes or until the internal temperature reaches 165 degrees. Always take the temperature from the center of the meatloaf.
Step 6 - Remove the meatloaf from the oven and allow it to rest for 10 minutes. Similar to how you let a steak rest after grilling, letting the meatloaf rest locks in the juices and allow the loaf to set up before slicing.
Serving Tips
It's traditional to serve meatloaf with a starch and veggie side. Some ideas for side dishes include:
Storage Tips
Leftover meatloaf will keep in the refrigerator for 3-4 days. One of my favorite ways to eat leftover meatloaf is cold between 2 slices of white bread as a sandwich. This is a nostalgic memory from my childhood.
Meatloaf is also great for meal prep as you can freeze a cook or uncooked meatloaf in the freezer for up to 6 months. You do not want to re-freeze an uncooked meatloaf that you made using previously frozen meat.
You'll want to thaw both the cooked or uncooked before reheating or baking.
FAQ
Can you overcook ground chicken?
While it's extremely important to cook chicken to an internal temperature of 165 degrees for food safety, you also want to make sure you don't overcook it. Overcooking chicken will make it dry and it will fall apart. Using a kitchen thermometer to monitor the internal temperature will ensure you don't overcook your meatloaf.
What is the secret to juicy meatloaf?
Finding the balance of ingredients that provide moisture and ingredients that bind the meatloaf together are crucial for success. Adding one egg per pound of meat helps retain moisture and helps hold the meatloaf together.
Do you bake meatloaf covered or uncovered?
Using this recipe, you can bake the meatloaf uncovered. There is enough moisture to keep the inside moist and the slightly caramelized glaze and crust that forms on the outside are some of the best parts of this recipe!
Other Main Dishes You'll Love
Be sure to follow The Darling Apron on Facebook & Instagram along with what I'm pinning on Pinterest!
Have you made one of my recipes? I'd love your feedback on the comment box and star rating below the recipe!
Ground Chicken Meatloaf
This easy Ground Chicken Meatloaf is a healthier alternative to traditional meatloaf, while not compromising on flavor. This twist on homestyle meatloaf is sure to become a new family comfort food favorite!
Ingredients
Meatloaf
2

#

ground chicken

½

cup

yellow onion

chopped

½

cup

quick cooking oats

½

cup

breadcrumbs

¼

cup

grated parmesan cheese

2

eggs

½

cup

ketchup

2

tbsp.

Worcestershire sauce

1

tbsp.

dried parsley

1

tsp.

dried oregano

1

tsp.

garlic powder

1

tsp.

salt

½

teaspoon

black pepper
Glaze
⅓

cup

ketchup

⅓

cup

barbecue sauce

2

tbsp.

brown sugar
Instructions
Preheat oven to 400 degrees. Line a baking sheet with parchment paper.

In a large mixing bowl, combine meatloaf ingredients. Mix until just combined.

Form meatloaf into a loaf on baking sheet. In a small bowl mix ketchup, barbecue sauce and brown sugar. Pour glaze over the meatloaf and spread evenly over the top and sides.

Bake meatloaf for 55-60 minutes until the internal temperature reaches 165 degrees.

Remove from oven and allow meatloaf to rest for 10 minutes before slicing.
Helpful Equipment & Ingredient Links