This Graham Cracker Fluff is an old-fashioned dessert made with a simple sweet custard & whipped cream on top of a graham cracker crust. Don't let the simplicity fool you, this dessert is out of this world!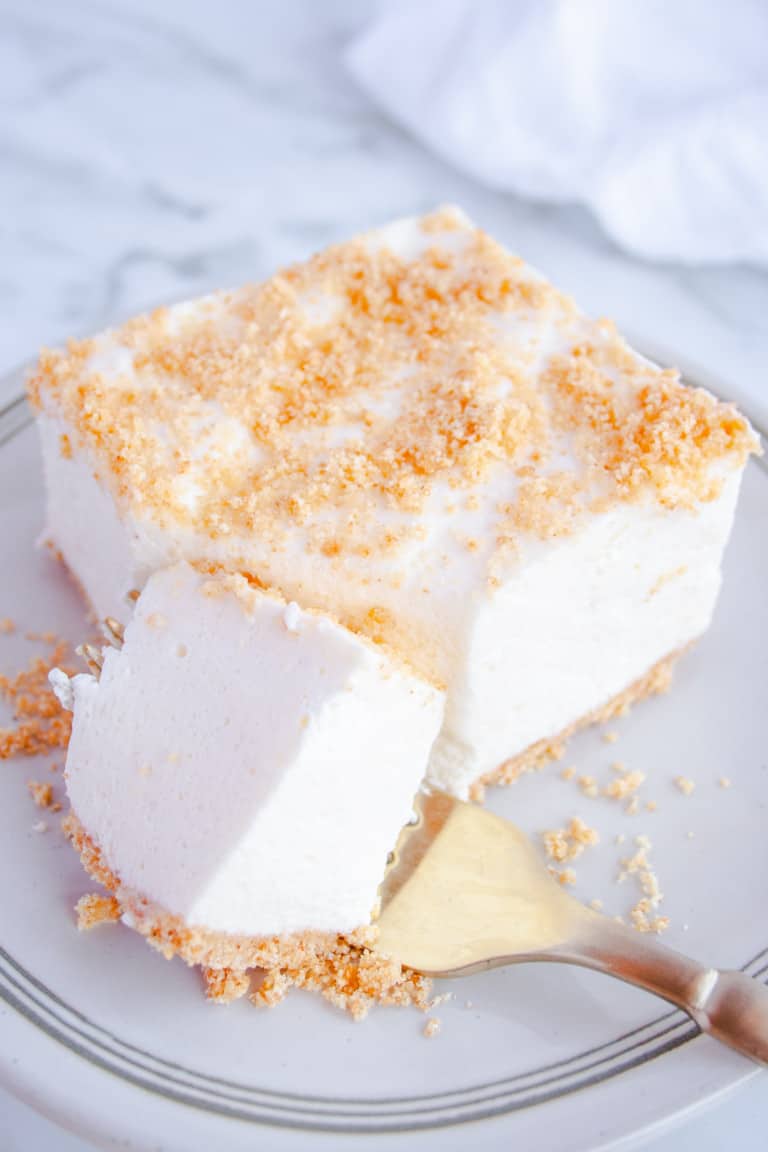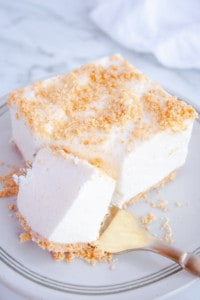 I'm lucky enough to be writing this post sitting on a picnic table on the shore of Bear Island Lake in northern Minnesota. My grandpa built our cabin here in the late 1950's, when my mom was just a kid. She grew up loving this place and passed that love onto me. During my childhood I spent most of my weekends "up at the lake" swimming, fishing, four-wheeling and exploring the woods. The next generation of cabin lovers has started with my two girls who have been coming to the cabin since they were just weeks old. I can already see their love for this place blossom and nothing makes my heart happier.
One of the most special things about our cabin are the friendships that have formed with our neighbors who have become our "lake family". As my mom's illness progressed (read more about that here), the lake continued to be a place of escape for her. She loved spending time watching the hummingbirds come to the feeder at the window and spend countless nights around the campfire with our neighbors talking the night away. Many of the same stories are still being told, but the predictability makes them special. These neighbors were a strong support system for our family and they remain some of our closest family friends.
What Is Graham Cracker Fluff?
Throughout the years our lake family would have potluck BBQ's and fish fries a couple times a summer. Our families would gather and enjoy things like Beer Battered Onion Rings, fresh-caught walleye and various salads and desserts. Our neighbor Mel would make a dessert like this Graham Cracker Fluff, which she called Geneva Fluff. It's a dessert that's the perfect balance between light & fluffy and rich & sweet. It's flavored with vanilla & nutmeg and set with gelatin on a graham cracker crust. This dessert is meant to be cut into bars and enjoyed like a piece of cake.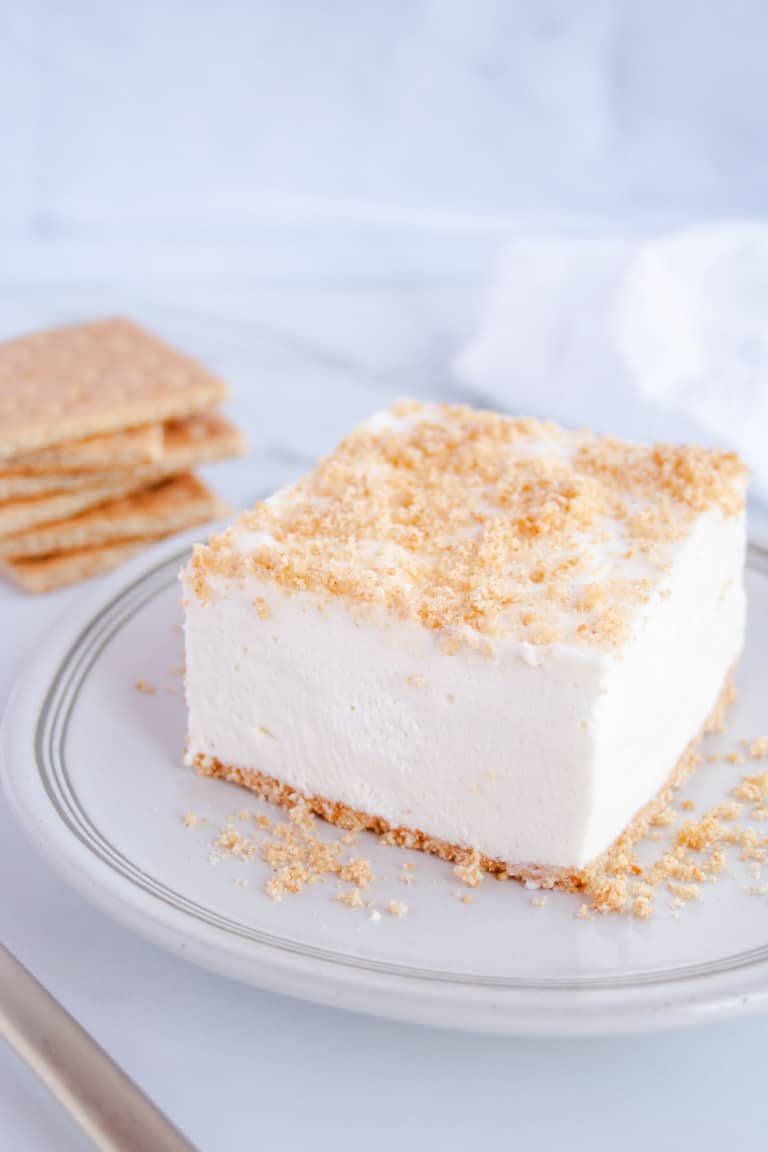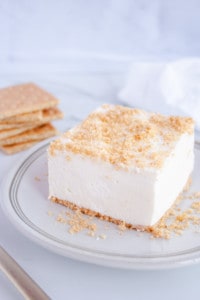 Ingredients for Graham Cracker Fluff
Graham Cracker Fluff consists of 3 separate parts. A sweet custard that's folded into whipped cream and a graham cracker crust. The ingredients needed for each component include:
Custard
Milk – whole milk works best and gives your custard a nice, rich texture
Eggs – the thickening agent of the custard. Both the yolks and whites contain proteins that coagulate when cooked
Sugar – to sweeten the custard
Nutmeg – for just a hint of warm spice
Pinch of salt – brings out and brightens the flavor
Powdered gelatin – to hold this dessert together
Whipped Cream
This is simple. Just 2 pints of heavy whipping cream to whip & fold into the custard. No sugar is added as the custard is plenty sweet.
Graham Cracker Crust
Graham cracker crumbs – use a food processor or crush them in a plastic bag to achieve fine crumbs

Butter

Sugar
How to Make Graham Cracker Fluff
The recipe for this Graham Cracker Fluff is simple, utilizing a few basic techniques. The custard is the first thing on the list.
Custard
Combine whole milk, beaten eggs, sugar, nutmeg & a pinch of salt in a saucepan over medium heat. The first three ingredients are the base for most custards. Bring this mixture to a good boil and simmer for 5-7 minutes until the mixture just starts to thicken. The custard should just coat the back of a spoon. While the custard is cooking, soak the powdered gelatin in cold milk in a large bowl. This is what's going to make the custard nice and thick. When the custard is done, remove it from the heat and pour it over the soaked gelatin. Use a whisk to stir well and make sure the gelatin dissolves completely. Add the vanilla and allow the custard to cool completely to room temperature on the countertop. Don't put the custard in the fridge yet, as you don't want it to begin to set. You just want it to be cool enough to combine with the cold whipped cream.
Whipped Cream
In a cold, clean metal bowl whip 2 pints of whipping cream with a hand or stand mixer. Beat until stiff peaks form. Gently fold the whipped cream into the cooled custard until well combined, making sure there are no big white streaks remaining. I find I must fold a little harder than I normally would folding something into whipped cream. It's important to get the custard and cream combined well and luckily the gelatin will help hold everything together.
Graham Cracker Crust
In honor of it's namesake, this Graham Cracker Fluff sits atop none other than a graham cracker crust. I just love graham cracker crust in pies and bars. To make it, mix graham cracker crumbs, melted butter & sugar and press into the bottom of a 9X13 pan. Reserve about ¼ cup of the crumbs to sprinkle over the top.

Evenly spread the fluff over the graham cracker crust and sprinkle with the reserved graham cracker crumbs. Chill the Graham Cracker Fluff for at least 2 hours until completely set.
How Many Will This Serve?
You can cut this Graham Cracker Fluff into as big or small of pieces as you like. I usually cut the 9X13 pan 3X5 to give me 15 nice sized pieces. For smaller pieces, go ahead and cut the pan of fluff 4X6. This filling for this dessert is pretty tall so the pieces can be cut smaller and still make a nice portion, making it a great dessert for a potluck party!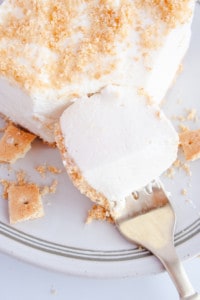 How Long Will It Keep?
This recipe is great to make ahead of time. Stored in the refrigerator this Graham Cracker Fluff will keep up to 5 days, although I highly doubt it will last that long! 
Other delicious dessert recipes:
Butterscotch Pretzel Rice Krispie Bars
No-Churn Blueberry Cheesecake Ice Cream
Graham Cracker Fluff
This Graham Cracker Fluff is an old-fashioned dessert made with a sweet custard folded into whipped egg whites on top of a graham cracker crust. Don't let the simplicity fool you, this dessert is out of this world!
Ingredients
2 ½

cups

whole milk

divided

2

cups

white sugar

2

eggs

beaten

¼

tsp.

nutmeg

ground

pinch of salt

2 -

.25 oz. envelopes

powdered gelatin

2

tsp.

vanilla extract

2

pints

heavy whipping cream

12

sheets

graham crackers

4

tbsp.

butter

3

tbsp.

white sugar
Instructions
In a saucepan over medium heat, combine 2 cups milk, 2 cups sugar, beaten eggs, nutmeg & salt. Bring to a simmer, stirring constantly. Cook for 5 minutes until mixture thickens slightly.

While custard is cooking, in a small bowl combine 2 envelopes of gelatin in ½ cup cold milk. Let sit for 5 minutes.

Remove custard from the heat and pour mixture over the gelatin. Whisk well to remove any lumps. Add vanilla. Let custard cool to room temperature, about 30 minutes.

For the crust, crush graham crackers into fine crumbs using a food processor. Add melted butter and 3 tbsp. sugar. Press into bottom of 9x13 pan, reserving ¼ cup for the top.

In a metal bowl whip heavy whipping cream until stiff peaks form. Gently fold whipped cream into cooled custard until well combined. Pour over crust and sprinkle with reserved graham cracker crumbs.

Chill for at least 2 hours in the refrigerator until set. Cut into bars & serve.
Helpful Equipment & Ingredient Links
Notes
When cooling the custard don't place it in the fridge, just cool to room temperature. You don't want it to begin to set before you fold it into the whipped cream. 
Want smaller pieces? This dessert can be cut 4x6 to make 24 smaller pieces.