This creamy Orange Cottage Cheese Jello Salad is an old-fashioned recipe made with cottage cheese, orange jello, mandarin oranges, crushed pineapple and whipped topping. It makes a quick & easy side dish that can be served at holidays, potlucks or as a simple side to a meal!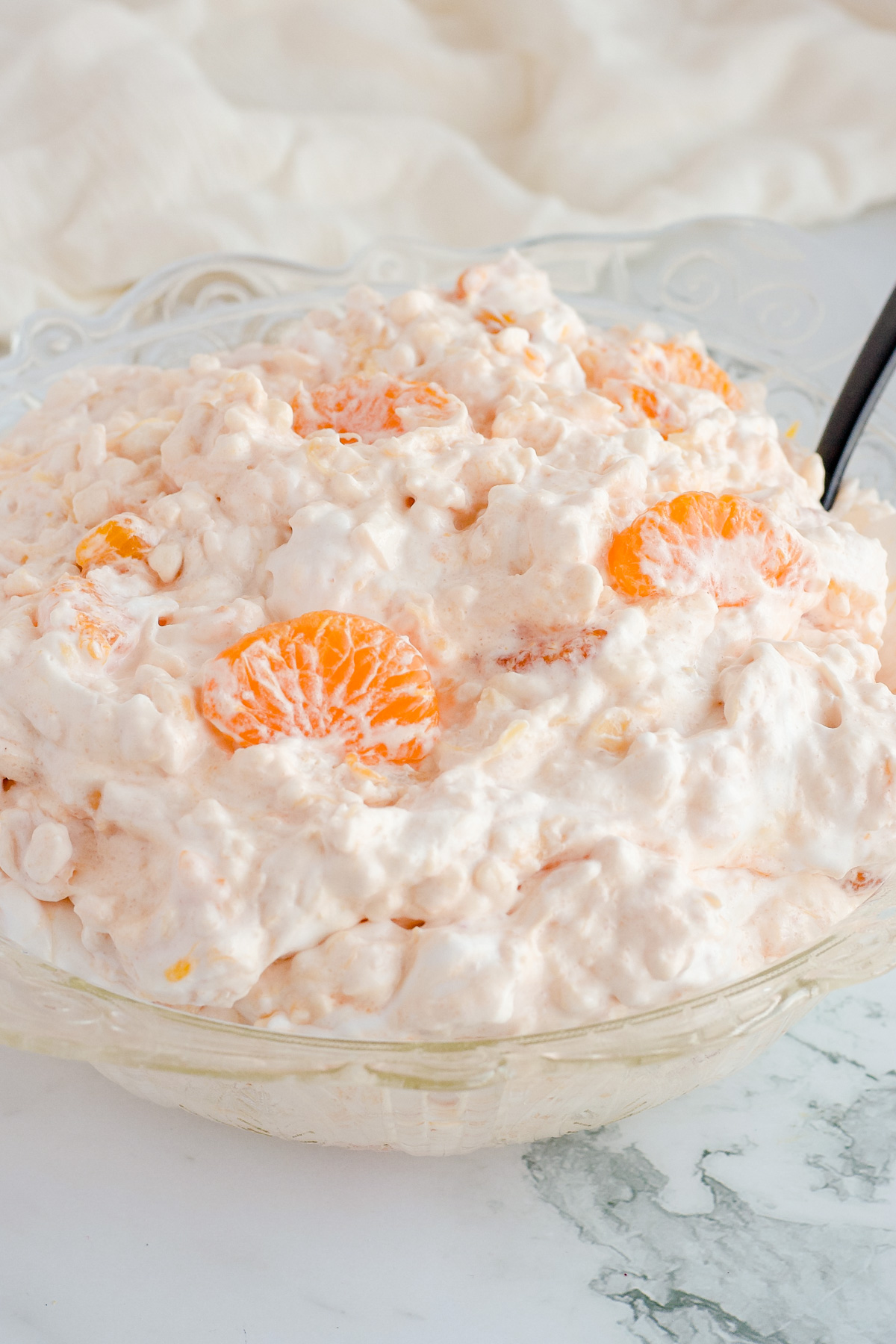 I use the term "salads" very loosely with this recipe. Jello salads were staples at holiday meals when I was growing up. I remember the various colors of molded salads that jiggled every time the table moved. While this jello salad contains dry orange jello, it's a creamy salad rather than jiggly.
I think cottage cheese is a totally underrated food. It is low in calories but high in protein, making it a filling snack. I know there are two sides to the cottage cheese battle: people who love it, and people who despise it. I think the texture of it can be off putting to some. You can buy cottage cheese in different curd sizes, from small to large.
I love eating cottage cheese in a bowl with grapes, and thanks to my good friend, on pancakes! It is something her grandma taught her and I think of her every time I do it. Pancakes with butter, a dollop of cottage cheese and drizzled with syrup. Trust me here.
Jump to:
Why You'll Love This Recipe
5 ingredients - Five store-bought ingredients are all you need to make this quick & easy salad.
Great make-ahead recipe - Making it a great option for entertaining!
Versatile - Easily switch up the flavors of this recipe by using a different jello flavor with a matching canned fruit for a brand new salad!
Ingredient Notes
Cottage cheese - What kind you use is completely up to your preference. Large curd gives the jello salad a "chunkier" texture. Small curd and lower fat can also be used with no issues.
Orange jello - Think creamsicle flavors for this salad. Use just the powder and ignore the directions on the box.
Crushed pineapple - Pineapple tidbits could also be used to make a chunkier salad.
Mandarin oranges - Provide sweetness and even more orange flavor.
Frozen whipped topping (Cool Whip) - The store-bought frozen whipped topping will hold it's shape and keep the salad nice and fluffy.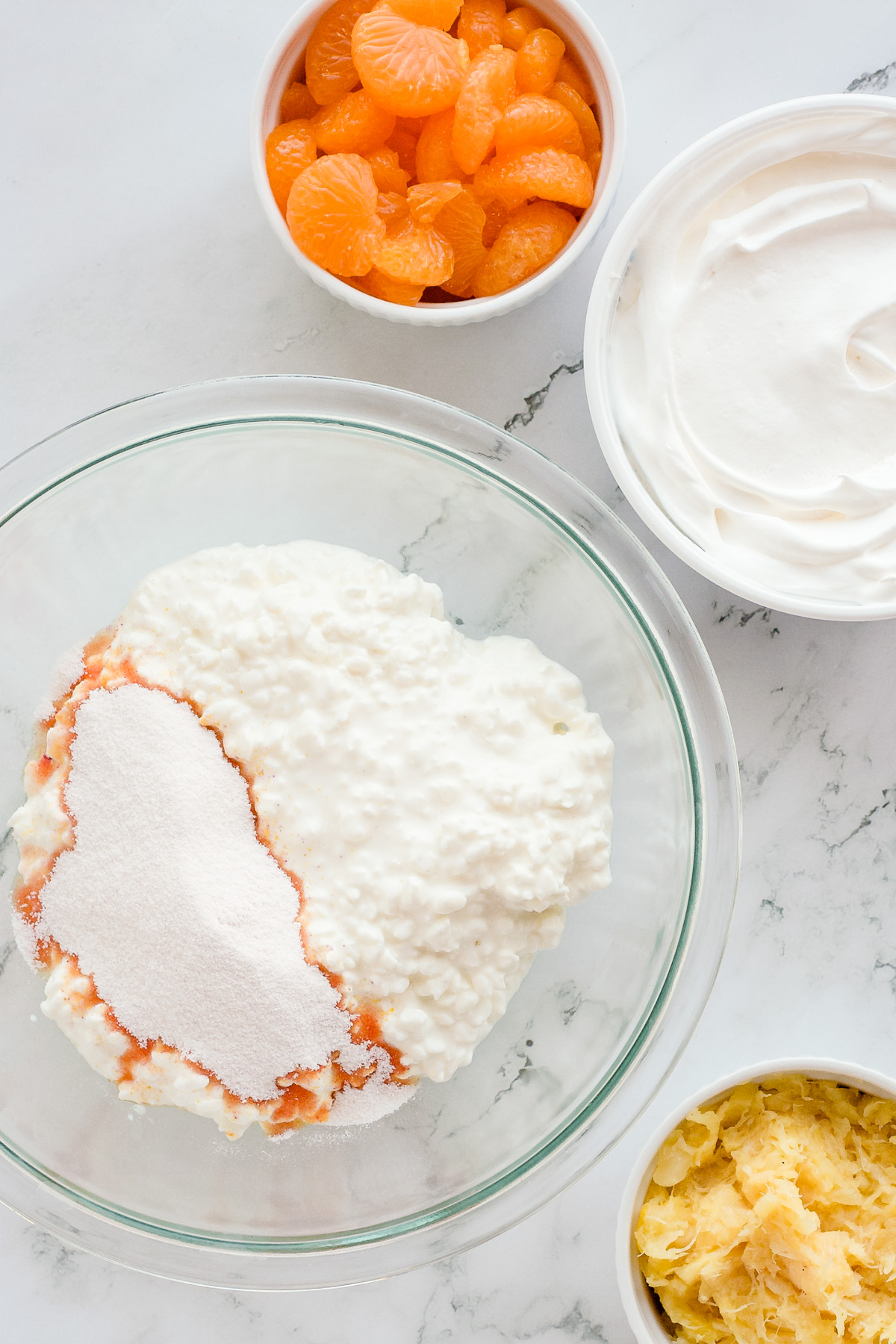 How to Make It
Drain the fruit - Draining the fruit really well is crucial to avoid a runny salad. Place the mandarin oranges in a strainer and let the juices run through. With the crushed pineapple, I set it in a strainer but then use my hands to squeeze out as much juice as I can.
Mix cottage cheese & jello - Mix cottage cheese and jello powder in a mixing bowl until jello is fully incorporated. Fold in the drained fruit, being sure not to mash the oranges.
Add whipped topping - Gently fold in thawed whipped topping until well incorporated.
Chill - Cover and refrigerate the salad for at least an hour before serving. This allows everything to chill and the jello powder to dissolve.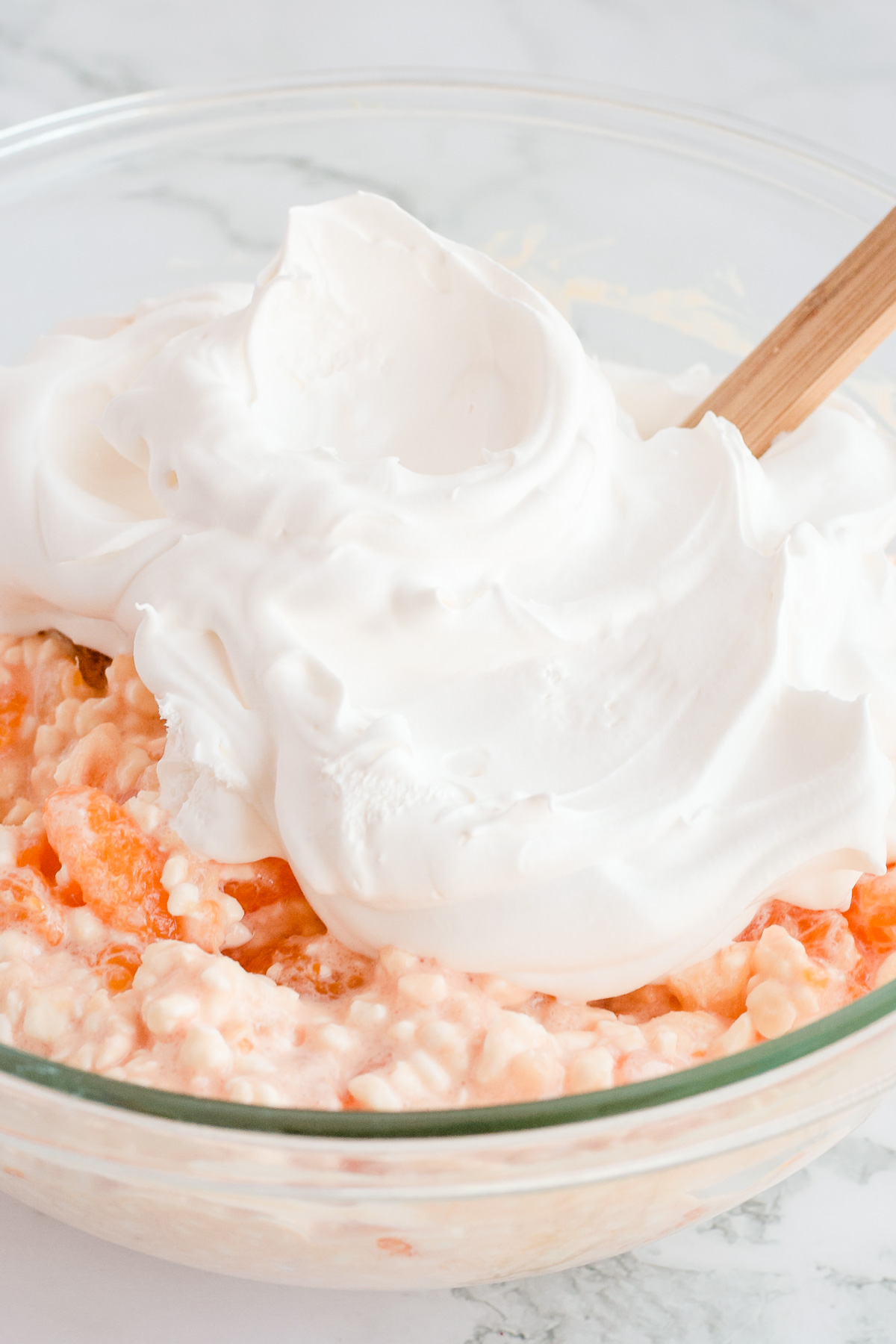 Recipe Tips
Be sure to drain the canned fruit really well! No one likes a watery salad. After storing in the refrigerator you may notice a little juice or separation. This is normal. Just give the salad a quick stir before serving.
Fold in the whipped topping. This ensures the whipped topping stays nice and fluffy, and in turn, makes the salad fluffy!
Remember the important food safety rule when it comes to a perishable food like cottage cheese. It can be left out at room temperature for up to 2 hours. Then it needs to be refrigerated. I like to fill a smaller bowl that I can always refill if need be.
Serving Tips
This recipe makes a big bowl of jello salad. I usually transfer some of it to a smaller serving bowl. Serve it in small bowls or right on your plate with the rest of your meal.
A side dish or dessert? I say either! This jello salad would make a great addition to a holiday meal like Easter, baby shower, or to add to a potluck spread.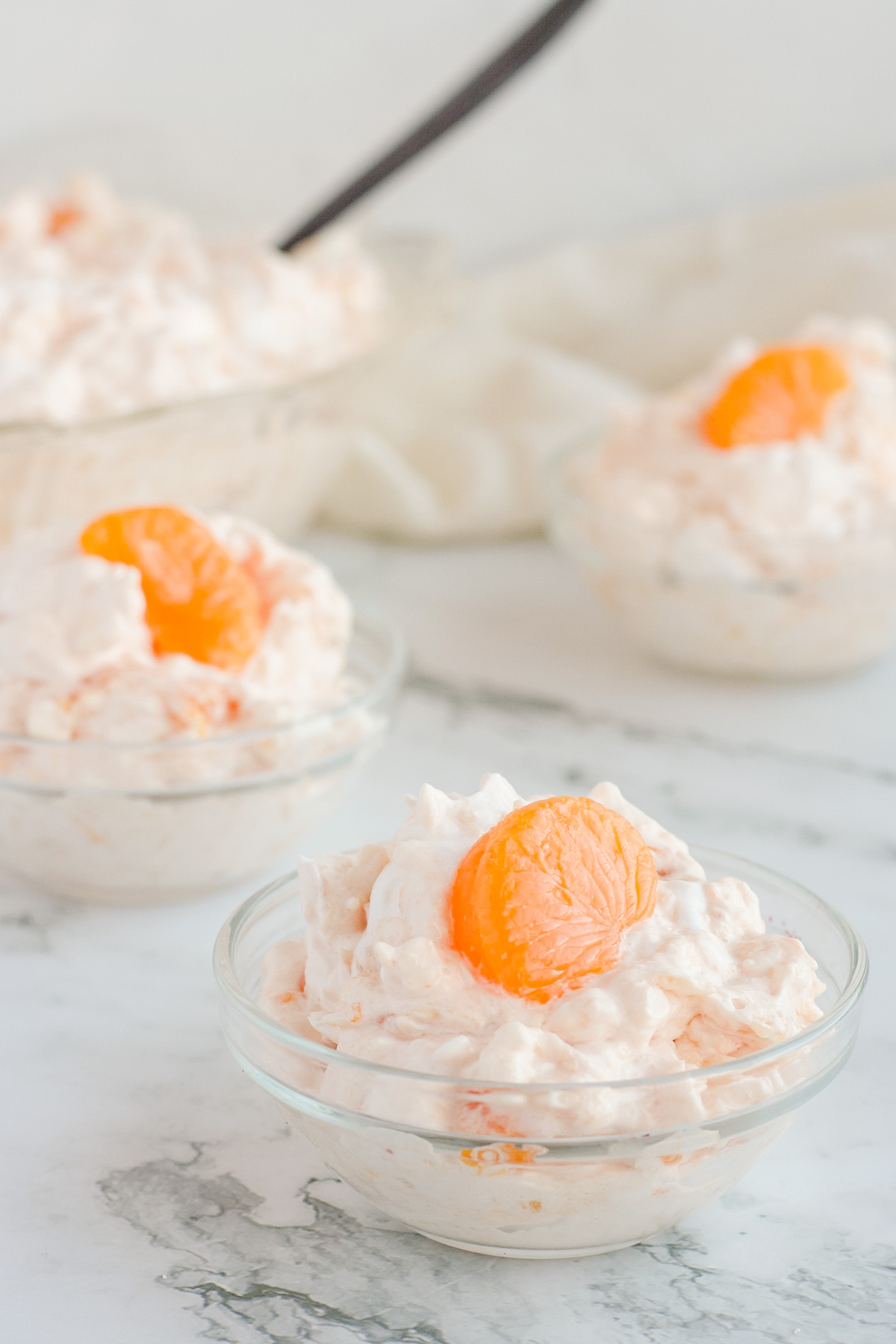 Recipe Variations
Switch up the flavors of this salad by changing out the jello flavors and different kinds of fruit. Some fun ideas include:
Lime jello with diced canned pears
Strawberry jello with diced fresh strawberries
Raspberry jello with fresh raspberries
Lemon jello with fresh blueberries
You could also add slivered almonds or walnuts to the salad if you'd like!
FAQ
How long will the cottage cheese jello salad keep?
When stored in an airtight container in the refrigerator, the salad will keep for about 3 days. You may notice some extra juice that separates after some time, but just give the salad a good stir before serving!
Can I use homemade whipped cream?
This is one instance where homemade is not always better. The frozen whipped topping in the tub is much more stable than homemade. This helps keep the salad fluffy. If using homemade whipped cream your salad may not be as fluffy and I would recommend serving it the same day it's made.
Can I use sugar-free jello?
There's no reason that sugar-free jello wouldn't work just as well as the regular. To keep the sugar down in the entire salad you can also use a sugar-free whipped topping and use canned fruit in 100% juice instead of heavy syrup.
Other Recipes You'll Love
Be sure to follow The Darling Apron on Facebook & Instagram along with what I'm pinning on Pinterest!
Have you made one of my recipes? I'd love your feedback on the comment box and star rating below the recipe!
Orange Cottage Cheese Jello Salad
This creamy Orange Cottage Cheese Jello Salad is an old-fashioned recipe made with cottage cheese, orange jello, mandarin oranges, crushed pineapple and whipped topping. It makes a quick & easy side dish that can be served at holidays, potlucks or as a simple side to a meal!
Ingredients
22

oz.

cottage cheese

20

oz. can

crushed pineapple

drained well

1

15 oz. can

mandarin oranges

drained well

3

oz. box

orange jello

8

oz.

whipped topping

thawed
Instructions
In a mixing bowl, combine cottage cheese and jello powder. Add drained fruit and gently mix.

Fold in thawed whipped topping.

Refrigerate for at least an hour before serving.
Helpful Equipment & Ingredient Links
Notes
Drain oranges and pineapple well! Squeeze crushed pineapple to get out as much liquid as you can to avoid a runny salad.
Switch up the flavors by swapping out the jello flavor and a different fruit. Some fun ideas include:

Lime jello with diced canned pears
Strawberry jello with diced fresh strawberries
Raspberry jello with fresh raspberries
Lemon jello with fresh blueberries