I grew up eating this Hamburger Casserole that is so easy to make for a perfect weeknight meal!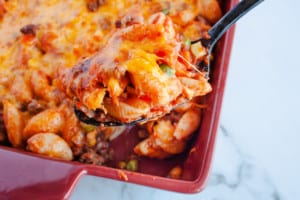 Being a lifelong Minnesotan, I know a good hot dish when I see one. This Hamburger Casserole is just that. Ground beef, pasta and veggies in a tomato sauce topped with cheese all baked together to hot dish perfection.
The History of Hamburger Casserole
My late grandma, Pauline, first came up with this recipe. If you read my About Me page, you recall this was the grandma who would make a full turkey dinner on the hottest day of the year. Don't let her height fool you, she was a strong woman who's recipes take up a lot of space in my recipe box. I was quite young when she passed away, but I grew up knowing this dish was something she would make for my mom and aunts that was eventually passed down to me. I grew up calling this Hamburger Casserole "More". The name simply comes from the idea that everyone will want "more"! It never ceases to amaze me how food can be used to pass along these memories for generations.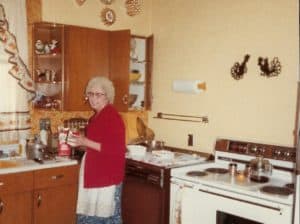 Hamburger Casserole Variations
The ingredients for this casserole are simple and likely include items you already have in your kitchen. This recipe can also be adjusted for what you have in your pantry.
Ground turkey would be a great substitute to the ground beef.

Any shaped pasta will do. I prefer something like the shells as they really seem to catch the tomato and veggie mixture.

Any other shredded cheese would work just fine.

Feel free to switch up the veggies! (You just may need to adjust the cooking time when doing this.)
How to Make Hamburger Casserole
First, start by preheating oven to 350 degrees.
In a large pot, cook pasta according to box instructions. Be sure to add about a tablespoon of salt to your pasta water. This is your one chance to really season the pasta. You will want to cook the pasta al dente, as the it will continue to cook in the oven. Drain well and put into large mixing bowl. Set aside.
Next, move on to the ground beef. Pour olive oil into skillet over medium high heat. Add ground beef and break into small pieces. Season with salt and pepper. After a few minutes, add the onion. Continue cooking until beef is no longer pink and drain any excess fat. Add beef mixture to the mixing bowl with pasta.
To the mixing bowl, add tomato sauce, tomato paste and frozen veggies. Mix until well combined. Pour into 9X13 (3 quart) baking dish and top with shredded cheese. Cover with foil and bake 30 minutes. After 30 minutes, remove foil and bake another 10-15 minutes until cheese is perfectly bubbly.
Serve this Hamburger Casserole on it's own or with a simple garden salad for the perfect, kid-friendly weeknight meal! Don't be surprised when your family asks for more!
Other weeknight meal ideas:
Pork Chops with Mushroom Gravy
Hamburger Casserole
Easy hot dish made with ground beef, veggies & pasta in a tomato sauce and topped with cheddar cheese. It's a dish that will have everyone asking for more!
Ingredients
2

tablespoon

olive oil

1

lb.

ground beef

1

small

yellow onion

chopped

2

tsp.

salt

1

tsp.

black pepper

1

16 oz. box

medium shell pasta

1

6 oz. can

tomato paste

1

29 oz. can

tomato sauce

1

16 oz. bag

frozen mixed vegetables

2

cups

sharp cheddar cheese

shredded
Instructions
Cook pasta according to package instructions, being sure to add 1 tbsp. of salt to the boiling water. Drain well & add to large bowl.

In skillet over medium high heat, add olive oil. Add ground beef, onion, salt & pepper. Cook 4-5 minutes until beef is no longer pink and onions are soft.

To large bowl with shells, add tomato paste, tomato sauce and frozen vegetables. Add browned ground beef and onion mixture. Stir well.

Pour mixture into 9x13 baking dish. Top with shredded cheese.

Cover with foil and bake on center rack for 30 minutes.

After 30 minutes, remove cover & bake 10-15 longer until cheese starts to brown.
Helpful Equipment & Ingredient Links
Notes
This recipe is great as is, but can be adjusted for what you have in your pantry.
Ground turkey would be a great substitute to the ground beef.

Any shaped pasta will do. I prefer something small like the shells as they really seem to catch the tomato and veggie mixture.

Any other shredded cheese would work just fine.

Feel free to switch up the veggies! (You just may need to adjust the cooking time when doing this.)